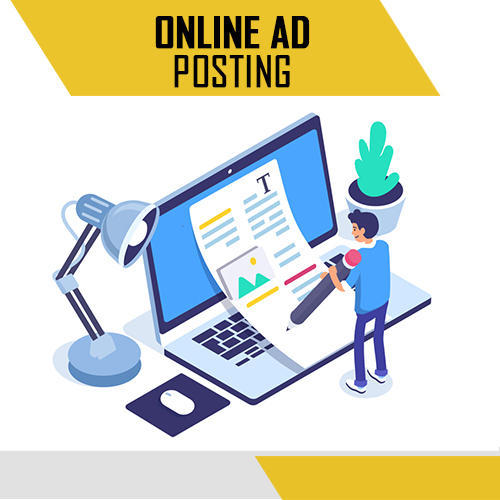 AD POSTING JOB
• Ad posting with MUGDHA INFOTECH means minimum effort and maximum output earn hassle free income.
• Join us to join thousands who have made their future in Ad Posting with us you know all glory comes from daring to begin.
• Simple work and ample money, Ad posting is like entering golden gate of money mine. We will impart you the training. Where you will be taught how to do it from home. This can be done form home or office. The easy way to increase your income.
.
HOW TO WORK

This work is very simple. All you need to do is to post short text Ads (Provided by us) into various free classifieds sites like COPY-PASTE Work. The more you post, the more payment you receive.
Earn Unlimited Per Month with our "Ad Publishing" Job. There is no paper work, no outdoor marketing and no need to meet any office. You can work as full time or part time during day or night from your home or any cyber cafe, from any part of the world.
.
BENEFITS :-

• Earn up to Rs. 25,000/-
• Simple Copy Paste Work.
• Work Anytime From Home, Office, Cyber Cafe or Any Place in the World.
• Daily / Monthly Guaranteed Payment.
• Thousands of Satisfied Members.
• Real Legitimate Ad Posting Opportunities.
• No Previous Experience Needed.
• Basic Internet Surfing Knowledge Required.
• Start Earning from the Day One.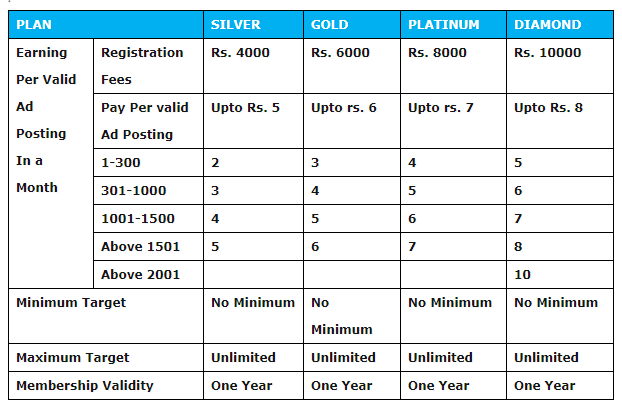 • You can Ad Post UNLIMITED Per Month. (No Minimum or Maximum Target)
• Your Membership Validity for ONE YEAR. (From the date of Registration/Membership)
We Accept following Payment Method's
• Cash Payment : You can pay your Registration Fee by cash at our office directly.
• Direct Deposit Cash or Cheque at Bank: You can pay your Registration Fee by Cash or Cheque deposit at your nearest bank. A bank account detail has given below.
• Net Banking: You can pay your Registration Fee by Net Banking into below account.
.
ACCOUNT DETAILS OF MUGDHA INFOTECH
| | |
| --- | --- |
| Account Name | Mugdha Infotech |
| Bank Name | ICICI Bank |
| Branch | Satara Road Branch, Pune |
| Account Type | Current Account |
| Account No. | 033705008260 |
| IFSC Code | ICIC0000337 |
PayPal Transfer
You can pay your Registration Fee by PayPal. Our PayPal ID is: mugdhapurandare95@gmail.com
For login your PayPal Account visit: www.PAYPAL.com
.Gpay Transfer
ou can pay your Registration Fee by Gpay. Our Gpay QR Code is
FAQs:
.
1 Why Do I´ve to pay registration Fees?
This registration is for one year. Registration fees include administrative charges, server charges on which you will work, includes account maintenance charges, and one time charges of our support which you get while working in one year. It also includes all the correspondence charges in which documents are sent through post or courier to your address. Registration Fees also kept to keep away spam workers from working. If we keep free, than in a single day all job work will be over as daily millions of people visit our site. So Registration fees gives us serious workers only, and one works promptly too. Moreover we cannot give access of secure servers to anyone like spam workers. However we may refund registration fees to clients who work promptly for 1 Year.
.
2 What is Ad Publishing Job?
As the name indicates, Ad Publishing Job is very simple where all you've to do Publish of Ads on different Classified Websites like COPY-PASTE Job.
.
3 What are the basic requirements to get started in this Ad Posting Job?
To get started you should have the basic knowledge of Internet Surfing, you should have internet connection, PC or else you can also work from cyber cafe. This Job is available worldwide & one can work from any place, any time.
.
4 From where will I get the Ad Matter?
After take registration from us, we will provide you the username of our member's area. You will get all working material to your Email address within 24 hours include User name.
.
5 Is there any time limit for each Ad publishing & what will be the daily & monthly work load to get paid?
There is no time limit for Ad Publishing. You can work whenever you want in your working hours, no restrictions. There is no daily Publishing limit; you can publish any no. of Ads. We only see the overall month work
.
6 In a single Website, How many Ads can I Publish?
In a single website, you should publish not more than One Matter of Ads.
.
7 Do you offer any type of support or assistance?
Yes! We offer 100% member support. You can email us anytime, ask questions and get advice. In order for us to succeed, our members must succeed.
.
8 When can I get my payments?
Every month you will be paid within 10 days after submit your report. Indian customer will be paid by Cheque or Fund transfer.
.
9 Okay all my points are clear, How to join this profitable Home Job?
First you have to choose one of the schemes offered by us and pay the required fees by Direct Deposit Cash Payment, Demand Draft, Money Order and Deposit Cheque into Bank Account or Net Banking.
.
10 Will the company provide training?
Training instructions will be sent to you through email as an attachment once you get registered. Personal training will be provided to anyone who visits our local office or branches personally.
.
11 Can I work from anywhere?
Yes you can work from anywhere as long as you have access to the internet.
.
12 Are there any hidden costs?
No.
.
13 I live outside INDIA .Can I work?
Yes, if you are an INDIAN citizen staying abroad, you can also work as long as you can access the Internet. Payment will be made in INR to anyone nominated by you in India itself.
.
14 How do I get paid?
All payments are made through cheques which will be sent to you by registered post/courier (postal charges will be deducted from your earnings).
.
15 When do I get paid?
Payment details will be communicated to you through e-mail between 10th and 20th of the following month and Cheques dispatched thereafter, spread over a period of 2-3 weeks.
.
16 Are there any limits to my earnings?
There is no limits of your EARNINGS, You can earn unlimited per Day & per Month.
.
17 Why do I have to pay for Registration?
Registration fees are collected to offset administrative expenses & for providing technical support for ensuring that you get work continuously for the entire duration of your membership.
.
18 How Do I join the scheme? Or how do I pay the registration fees?
a) Cash payment: If you happen to visit our office in person then you can pay the registration fees, directly by cash.
b) Sending a DD: You can also pay us by getting a Demand Draft prepared in favour of"MUGDHA INFOTECH" payable at PUNE.
c) Online Money Transfer: You can also transfer the Registration fees to our ICICI Bank Account No. 033705008260 (Pune, Satara Road, Pune Branch) in the Name of "Mugdha Infotech". Your account will be activated within 2-3 days of receipt of the registration fees. After transferring the amount please send your information to info@mugdhainfotech.in